Maciek Gralinski (mah-tchek grah-lyn-ski) M.S.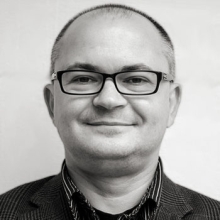 MG helps individuals and businesses to combat the techno-frustration. Maciek will advise and guide whether you need to catch up or keep pace with today's modern tools: networks, computers, mobiles, tablets, digital cameras, audio/video ,and more.
He is the go-to guy when you're planning to update your existing office equipment - seriously - don't even think skipping this step - he knows things that will save you time and money. MG loves making Mac's and PC's to get along.
Technology is Maciek's fascination, ever since he laid his eyes on a Mac on TV in Poland back in the day...
---
favourite film...

Star Wars, Indiana Jones, LOTR, GOT, that kind of nerdy thing.. I know..

all-time dream...

Playing at Old Trafford - The Theatre of Dreams - home of Manchester United and ...world peace.

best holiday destination ever...

Poland's Baltic Sea, smell of frying fresh fish and pine trees growing by the seaside.
Key Roles:

creative / technical direction, data / systems / planning strategy, it consulting, business analysis

Balanced with:

footgolfing, cooking, watching and playing soccer, hanging out with wife and kids, giving my friends poppycock about their soccer teams

Connect: